Tactical UAS for observation and recon missions
As a tactical UAS for surveillance, observation, reconnaissance missions and SAR, the Grabbit G7 impresses on the outside with its compact and no-frills design. Inside, however, it conceals a whole range of useful functions and special features that make it ideally suited for different operational szenarios.
Ready to fly in record time
The standby mode enables takeoff within a few seconds
In addition to the normal cold start mode, the Grabbit G7 offers a standby mode that allows the user to put the Grabbit G7 on standby some time prior to an operation without having to connect a drive battery.
This means that the Grabbit G7 can already be safely placed in standby mode in the emergency vehicle or at a protected location. When the mission command is received, the Grabbit G7 can be brought out of standby mode into the takeoff position and ready for takeoff instantly.
To decouple the flight controller's IMU from fluctuating outside temperatures, it is heated to 50°C after initialization. This usually happens completely unnoticed and within one minute. In very cold outside temperatures, this heating process can take a little longer and unintentionally extend the startup time. The IMU of the Grabbit G7 is already heated up in standby mode. In this way, the Grabbit G7 is ready to take off immediately after plugging in the flight battery from standby mode.
Exceptionally long flight times thanks to LiIon battery technology
The Grabbit G7 achieves exceptionally long flight times of over 50 minutes*.
This is achieved by its lightweight construction in combination with state-of-the-art LiIon battery drive technology. Even with quadrocopter drive unit and full payload, the Grabbit G7 achieves flight times of about 45 minutes**. With this, the Grabbit G7 sets new benchmarks!
*measured with bicopter drive unit (expected to be available IV quarter 2022); ** measured with quadrocopter drive unit and dual gimbal with FLIR 640x480 and RGB camera with 20x optical zoom.
Infrared lighting system for stealth missions
For stealth missions in darkness and twilight, the Grabbit G7 offers an infrared illumination system. This makes it invisible to uninvolved observers, while the pilot can locate the UAV with special vision equipment.
LED lighting with POS and AC lights
RGB (red-yellow-blue) LED lighting with switchable sequences and colors
The lighting of our Grabbit G7 UAS is based on RGB LED technology. Complex sequences with color change can be programmed. Lighting can be switched over and off from the transmitter. Thus, the Grabbit G7 already meets future requirements regarding the illumination of multicopters. The lighting consists of a total of 7 lighting units.
Radio-free incognito flying thanks to silent mode operation.
The Grabbit G7's silent mode allows flying a mission without communication between transmitter and UAV and vice versa.
Several hours of flight time for local use at the tether system (cable)
Many hours of stationary operation on the cable without intermediate landing.
The Grabbit G7 can optionally be converted to tether operation in just a few steps. Flight altitudes up to 60m AGL are possible on the tether cable.
A bidirectional data transmission is done via Ethernet over the tether cable. This also allows the Grabbit G7 to be controlled and its payload to be operated without a ground control station.
Improved orientation for the pilot due to integrated HD pilot camera at the face side.
The Grabbit G7 has an integrated HD pilot camera at the front, which provides a high-resolution video image to the ground station.
Well protected from collisions
The Grabbit G7 is fitted with a LIDAR-based Obstacle Avoidance System in front-end direction, which detects obstacles and protects the Grabbit G7 from any collision with an obstacle.
GNSS orientation with centimeter accuracy
Thanks to Dual Multiband RTK GNSS.
The Grabbit G7 is equipped with two multiband GNSS with UBlox NEO-M8P and STM32F302 chipset. This enables it to provide very accurate spatial orientation. The use of two GNSS allows an exact determination of the cardinal direction and thus an exact target bearing for the purpose of geo-localization.
Extended by an external GNSS base station, centimeter accuracy is given.
Position-HOLD without GPS-Signal
The integrated ground camera makes it possible
Scanning the ground using the downward looking optical flow camera allows the Grabbit G7 to stay in place even when no GNSS signal is received. This is the case, for example, in buildings or shielded terrain. The optical flow feature works depending on the conditions up to a altitude of about 15m.
Multi-camera gimbal system with EO/IR cameras with day and night vision mode.
Mechanical stabilization of the high-performance multi-camera system is achieved by means of gimbal stabilization. Additional software image stabilization enables a jerk-free image even when the gimbal stabilization is stressed beyond its limits.
In addition, the Grabbit G7 payload has unique features such as
Object tracking
Geolocation
Detection of fire and smoke
Detection of people in water (including drowning)
License plate recognition
...
The ICE suite provides 3 protection tiers:
Communication Immunity

Cyber Security protection

Data Encryption AES128, AES256
LONG-RANGE LINE-OF-SIGHT
SUPERIOR NON-LINE-OF SIGHT
RELAY OPERATION
SECURE & ENCRYPTED
PURE IP/ETHERNET
BROADBAND LINK ENABLING FULL HD VIDEO
COMPACT & LIGHTWEIGHT

2.4GHz (ISM) 900 MHz & 5.8GHz (ISM) optional
Other frequency options available on demand
GCS Operations Modes: Broadcast, Multicast, Unicast, Multiple users
MIMO 2x2 Tx & Rx diversity
Allwettertauglich IP65 Staub- und wasserdicht
Compact dimensions for easy handling
Compact but powerful
The drive unit, as well as the landing gear of the Grabbit G7 BOS are removable. The propellers, as well as the arm booms are foldable. This allows for a very compact packing size of the drone.
Telemetry condition monitoring
The most important UAV data always up to date on the GCS
The most important operating and flight data of the Grabbit G7 can be read at a glance from the transmitter's large color display. The telemetry data transmitted in real time includes flight duration, battery voltage, current, extracted battery capacity, remaining capacity indicator, flight altitude AGL and ASL, geocoordinates of the drone, number of satellites, quality of GNSS signals and much more.
Easy transport to the place of action
The handle makes it possible to carry the Grabbit G7 with only one hand
A feature of the Grabbit G7 that seems unimportant at first glance turns out to be a real handling simplification at second glance.
Toolless interchangeable drive
Quickly up and running again after damage
The Grabbit is the world's first and only UAV with a quick-change drive unit that requires no tools. This feature is not only practical in the event of damage occurring during operation, but also reduces acquisition, operating and maintenance costs. About 80% of the statistical damage is to the propellers, the motors and possibly the flight controllers. Sometimes the support arms are also broken. In such a case, simply and easily replace the complete drive unit and continue flying. A replacement drive unit costs a small portion of a whole Grabbit G7. Carried in your luggage, this guarantees a considerable increase in operational safety.
Changing the drive unit is child's play and can be done directly on site. The drive replacement also takes only 1 minute!
We will repair the damaged drive unit in the absence of the associated Grabbit G7. This means that there is no loss of use!
Toolless interchangeable landing device
Super prepared for Various Terrain and Conditions
The Grabbit's standard cross-leg landing gear is designed to fold up on the Grabbit G7. This saves a lot of space during transport. Furthermore, the entire landing gear is replaceable without the use of tools. This allows super fast replacement of the landing unit in case of damage, as well as replacement with a landing unit of a different type. Thus, a landing unit with floats can also be attached for landing on a water surface.
Autopilot with built-in redundancy
Autopliot for high safety requirements
The autopilot is equipped with a 3-fold redundant IMU (Inertial Measurement Unit). Two IMUs are damped and heated, one reference IMU is undamped. Thanks to the modern ARM® Cortex® H7 processor, this autopilot is also well equipped for future features.
Always well prepared with the Transform feature
The tool-free, fast-change drive unit offers another advantage that no other UAV on the world market can match.
Depending on the mission scenario, you can operate your unique Grabbit G7 either as a quadrocopter, an octocopter or a bicopter*. Insert the desired drive unit into the drive mount and take off immediately.
* Bicopter drive unit expected to be available from IV/2022.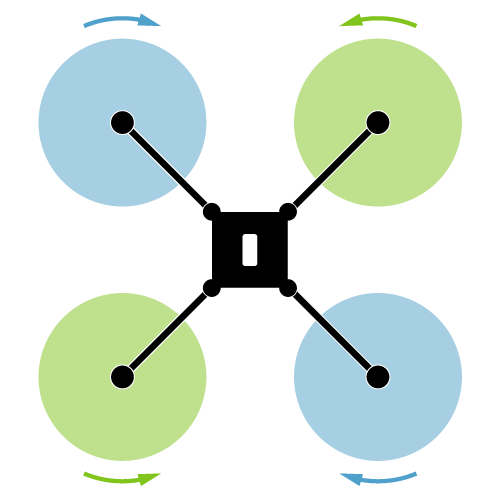 The Grabbit G7's quadcopter drive unit is very energy efficient and therefore achieves uniquely long flight times.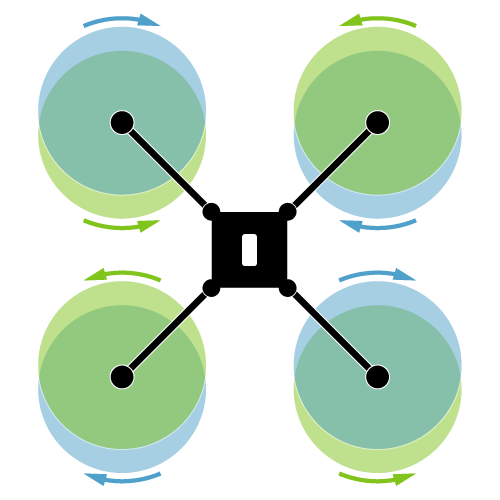 The Octocopter drive unit is especially suitable for mission scenarios with high safety requirements and harsh conditions such as use in strong winds.
The Grabbit G6's completely new bicopter drive unit enables efficient missions with up to 60 minutes of flight time while maintaining high safety standards. (Available from Q4 2022)
Drive unit
tool-free exchangeable / removable drive unit
tool-free exchangeable/removable landing gear
highly efficient brushless external rotor motors of the latest generation
16" CFK folding propeller
drive units with 4 or 8 rotors (bicopter from quarter 3/2022)
Power consumption
Speed
Flight time with payload
Autopilot/ Flight control
Autopilot system with currently highest level of development
3-fold IMU redundancy
2x barometer
3x magnetometer
Data logging of all processes and measurement data in real time
GNSS
Multi GNSS system (GLONASS, GALILEO, GPS, BEIDOU)
Optional RTK GPS for centimeter-precise positioning
Camera gimbal system
ZOOM: X40 (X20 + X2 digital)
FOV: 60° WFOV - 3° NFOV - 1.5° DFOV
THERMAL RESOLUTION: 640 x 480
PITCH: -45° to +135°
YAW/ROLL:-180° to +180°
OnBoard computer vision for long range tracking of moving objects.
Sensors
2x Laser Lidar downwards for precise height determination
Obstacle Avoidance Sensor to the front for obstacle detection
Image/data/video link
2,4/5,8 Ghz ; 900MHz
Broadband
adjustable frequency
128/256bit AES encryption
GCS
High resolution display with live image transmission and PiP
switchable OSD with full telemetry
Battery monitoring with safety functions
Processor temperature monitoring with active fan
HDMI output for additional monitors or HD glasses like DJI Goggles
LAN port for integration into mission control software with telemetry data and image stream as well as mission commander interface
WiFi hotspot, telemetry data and image stream to tablets or smartphones
USB port for control via external encoder
Options
Drive unit with 8 rotors for flights according to EU classification C2 / A1
LTE module for connection to cloud infrastructures or blockchain based data acquisition
Landing and loading platform for autonomous operations without personnel on site
All in one transport trolly for safe transport of the UAV with integrated ground and charging station
Worldwide distribiution by:
Vectorbirds Airborne Systems GmbH & Co. KG
Hauptstraße 60
37434 Bilshausen
+49 (0) 5528 999 3050
Info[at]vectorbirds.de